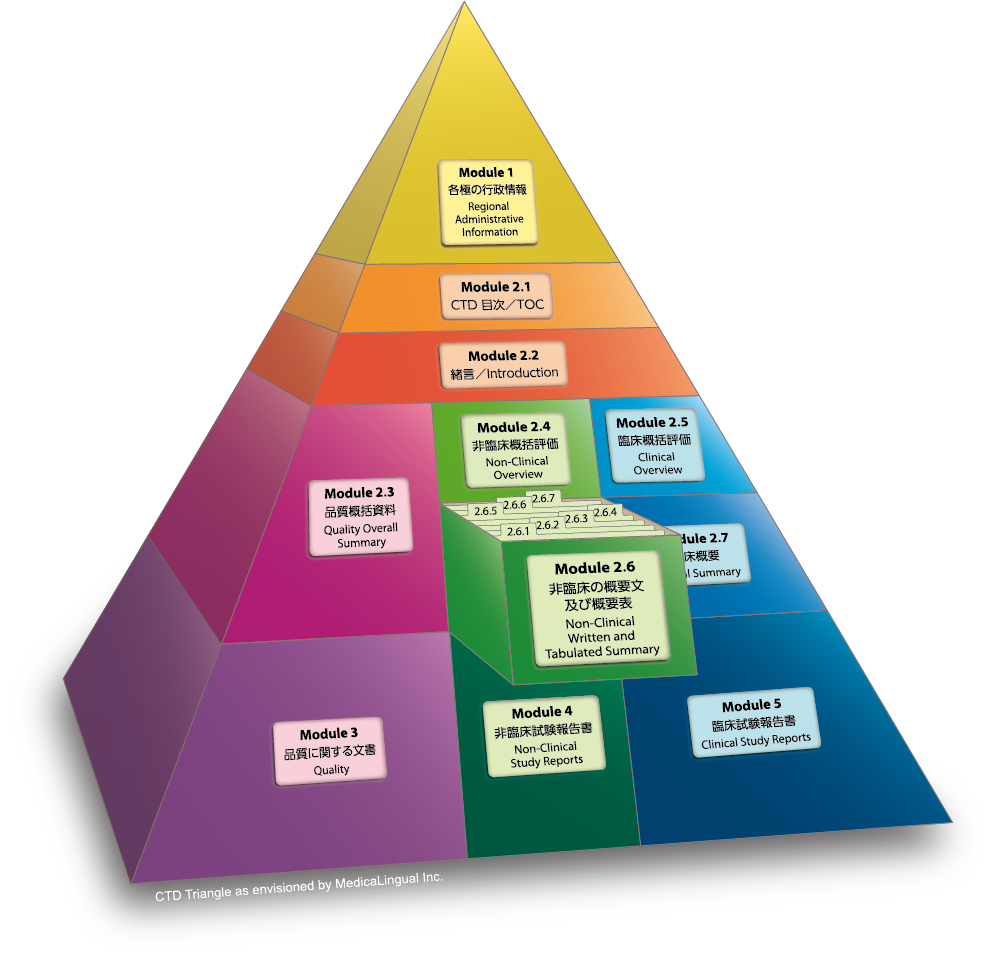 医薬審発第899号 CTD通知(別紙 4)
CTD 非臨床に関する文書の作成要領に関するガイドライン
(2002年9月11-12日ワシントン会議修正版)
ICH HARMONISED GUIDELINE – M4S –
(Numbering and Section Headers have been edited for consistency and use in e-CTD as agreed at the Washington DC Meeting, September 11-12, 2002)
Module 2.6 非臨床試験の概要文及び概要表
非臨床試験の概要文
緒言
本ガイドラインの目的は、非臨床の薬理試験、薬物動態試験及び毒性試験を規制当局の審査官が受け入れ可能な様式で概要文を作成することを支援することである。本ガイドラインは、どのような試験が要求されるのかを示すものではなく、得られたデータを記載する際の適切な様式を示しているものである。
Module 2.6 NONCLINICAL WRITTEN AND TABULATED SUMMARIES
Nonclinical Written Summaries
 Introduction
This guideline is intended to assist authors in the preparation of nonclinical pharmacology, pharmacokinetics, and toxicology written summaries in an acceptable format. This guideline is not intended to indicate what studies are required. It merely indicates an appropriate format for the nonclinical data that have been acquired.
概要文の各項における記載順序及び記載内容は以下に示す。全てを網羅することが出来るようなガイドラインはないということ、また、受け入れられる文書を作成するには、常識的な記述と審査官の要求に明確に焦点を当てて記述することが重要である。従って、申請者は、試験成績を理解し、評価を容易にするために、必要に応じて、最も分かりやすくなるように様式を変更しても構わない。
The sequence and content of the Nonclinical Written Summary sections are described below. It should be emphasised that no guideline can cover all eventualities, and common sense and a clear focus on the needs of the regulatory authority assessor are the best guides to constructing an acceptable document. Therefore, applicants can modify the format if needed to provide the best possible presentation of the information, in order to facilitate the understanding and evaluation of the results.
必要な場合には、年齢及び性に関連した作用も考察すること。異性体及び代謝物についての所見も適切に要約すること。評価を容易にするために、全概要中の単位を揃えることが望ましい。また、単位換算表も有用である。
Whenever appropriate, age- and gender-related effects should be discussed. Relevant findings with stereoisomers and/or metabolites should be included, as appropriate. Consistent use of units throughout the Summaries will facilitate their review. A table for converting units might also be useful.
考察及び結論の項において、複数の試験又は複数の動物種での結果を横断的に要約し、動物における曝露とヒトの予想臨床使用最高用量における曝露とを関連付けること。
In the Discussion and Conclusion sections, information should be integrated across studies and across species, and exposure in the test animals should be related to exposure in humans given the maximum intended doses.
記載上の留意点
項内での情報の記載順序
In Vitro試験があれば、In Vivo試験の前に記載すること。
薬物動態及び毒性の項で、同一種の複数の試験を要約する場合は、動物種、投与経路及び投与期間別(期間が短いものから順に)に配列すること。
General Presentation Issues
Order of Presentation of Information within Sections
When available, in vitro studies should precede in vivo studies.
Where multiple studies of the same type need to be summarised within the Pharmacokinetics
and Toxicology sections, studies should be ordered by species, by route, and then by duration
(shortest duration first).
動物種は以下の順に示すこと。
マウス

ラット

ハムスター

その他のげっ歯類

ウサギ

イヌ

ヒト以外の霊長類

その他の非げっ歯類哺乳動物

非哺乳動物
投与経路は以下の順に示すこと。
臨床での予定投与経路

経口

静脈内

筋肉内

腹腔内

皮下

吸入

局所

その他
Species should be ordered as follows:
Mouse

Rat

Hamster

Other rodent

Rabbit

Dog

Non-human primate

Other non-rodent mammal

Non-mammals
Routes of administration should be ordered as follows:
The intended route for human use

Oral

Intravenous

Intramuscular

Intraperitoneal

Subcutaneous

Inhalation

Topical

Other
図表の使用
非臨床試験の概要文は主に文章によって記述されるが、図表を適切に使用することにより効果的かつ簡潔に伝えることができる。概要文中に含まれる様式の例を補遺Aに示す。
作成者が最適な概要文の構成を決めて差し支えなく、図表は本文中に記載しても、それぞれの本文末尾にまとめて掲載してもよい。
本文に、概要表から引用する場合は表X.X, 試験/報告書番号とする
Use of Tables and Figures
Although the Nonclinical Written Summaries are envisaged to be composed mainly of text, some information contained within them might be more effectively and/or concisely communicated through the use of appropriate tables or figures. Examples of formats that might be included in the Written Summaries are shown in Appendix A.
To allow authors flexibility in defining the optimal structure for the Written Summaries, tables and figures should preferably be included within the text. Alternatively, they could be grouped together at the end of each of the Nonclinical Written Summaries.
Throughout the text, reference citations to the Tabulated Summaries should be included, in the following format: (Table X.X, Study/Report Number).
非臨床試験の概要文の長さ
非臨床試験の概要文の長さに関して明確な制限はないものの、3つの非臨床試験の概要文を合わせて概ね100~150頁を超えないことが望ましい。
Length of Nonclinical Written Summaries
Although there is no formal limit to the length of the Nonclinical Written Summaries, it is recommended that the total length of the three Nonclinical Written Summaries in general not exceed 100-150 pages.
概要文及び概要表の記載順序
以下の順序が望ましい。
緒言

薬理試験の概要文

薬理試験の概要表

薬物動態試験の概要文

薬物動態試験の概要表

毒性試験の概要文
毒性試験の概要表
Sequence of Written Summaries and Tabulated Summaries
The following order is recommended:
Introduction

Written Summary of Pharmacology

Tabulated Summary of Pharmacology

Written Summary of Pharmacokinetics

Tabulated Summary of Pharmacokinetics

Written Summary of Toxicology

Tabulated Summary of Toxicology