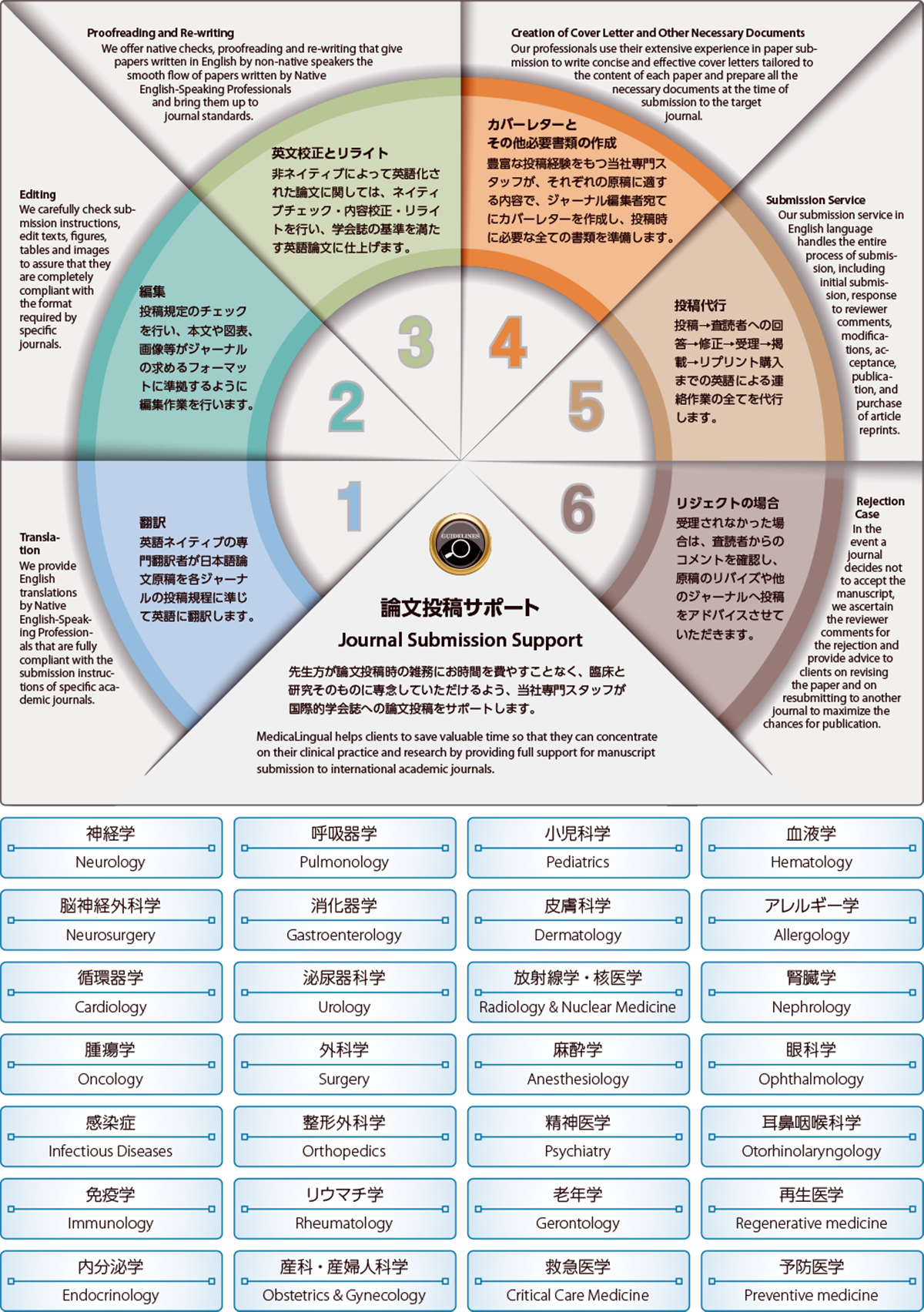 医学論文の翻訳から投稿まで
Road from Medical Article Translation to Journal Submission
(1) 翻訳
翻訳者(多くは博士号取得者)は、それぞれの分野において長年の臨床/研究経験を有しているので、お客様の論文の意図を汲み取り、その内容と研究成果を明確に表現することができます。また、多くはジャーナルへの投稿経験を持っているので、原稿の本質や意図するところを確認し、投稿先のジャーナルが定める投稿規定に沿うように翻訳いたします。
(1) Translation
MedicaLingual translators, many of whom hold doctorates in their areas of specialty, have long-term clinical and research experience in their fields of expertise that allows them to quickly perceive the author intension to clearly and accurately express the content and results of research in English. In addition to this important advantage, our translators have extensive experience in submitting papers to journals, so they are familiar with journal standards. They confirm the principles and intensions of the client's work and provide translations that are compliant with specific journal style and submission guidelines.
(2) 英文校正
専門知識を有する英語ネイティブ校正者が、正確でインパクトのある英語論文に整えます。お客様の意図する細かいニュアンスや研究内容が英語で正確に表現できているかを確認するため、Q&A方式で、お客様にネイティブ校正者と英語または日本語でやり取りをしていただきます。適切な言い回し、文法上の問題、自分の考えをうまく表現する方法など、様々な質問・疑問にネイティブ校正者がお答えします。また、再度、投稿規定のチェックを行い、本文や図表、画像等がジャーナルの求めるフォーマットに合うように編集作業を行います。
(2) Proofreading
Talented and highly experienced Native English-Speaking proofreaders with technical knowledge correct and rephrase texts to produce accurate English with impressive impact. In order to assure that the detailed nuance and research content intended by the client is achieved, our Native English-Speaking proofreaders and clients communicate through an effective and free-flowing Q&A system in either English or Japanese. Our proofreaders work closely with clients on questions of appropriate phrasing, grammatical issues, and the most effective ways to express the client's ideas clearly and with the maximum impact. In addition, following this important process, we carefully recheck submission guidelines, edit texts, charts, tables and images to assure that they are completely compliant with the format required by specific journals.
(3) カバーレターの作成と書類の準備
投稿時に提出されるジャーナル編集者宛のカバーレターは、投稿論文に対する第一印象を決定し、外部のピアーレビューを受けるかどうかという編集者の判断にも影響を与えます。豊富な投稿経験をもつ当社のネイティブスタッフが、それぞれの原稿に適する内容で、ジャーナル編集者宛てにカバーレターを作成し、投稿時に必要な全ての書類を準備します。
(3) Cover Letter Creation and Documents Preparation
The cover letter submitted with papers to journals is a highly important document that determines the editor's first impression and greatly influences the decision to move the paper forward for external peer review. Our Japanese and Native English-Speaking professionals use their extensive experience in paper submission to write concise and effective cover letters tailored to the content of each paper and prepare all the necessary documents at the time of submission to the target journal.
(4) リバイズ原稿作成
ジャーナル査読者が原稿の訂正を要求してきた際に、その内容を翻訳してお客様に伝え、お客様側にて修正されたリバイズ原稿の校正・翻訳を行います。加筆された部分についても、論理の流れが保たれるように他の部分との整合性を維持して校正・翻訳を行います。また、査読者に指摘された内容を正しく理解し、適切な修正がリバイズ原稿に加えられているかを確認し、論文全体の論調を考慮して、再投稿前にさらなる修正作業が必要かどうかについてもアドバイスさせていただきます。
(4) Paper Revisions
When reviewers suggest changes in papers, we carefully translate the reviewers' suggestions and quickly communicate this important information to the client. After the client has revised the paper, whether this means minor changes or major additions, we provide careful proofreading or translation to assure that the changes fit seamlessly into the revised paper, maintaining compatibility and flow of logic throughout the manuscript. Our staff's ability to clearly understand the content of reviewer comments allows us to confirm that revisions to the manuscript are appropriate and complete, and allows us to provide valuable advice about the need for further revision prior to submission.
(6) 連絡・代理交渉
リバイズ原稿提出後も、当社のネイティブスタッフがジャーナル編集者と慎重かつ柔軟に話し合い、受理に向けての最適な方法をご提案します。受理されなかった場合は、査読者からのコメントをもとに、原稿のリバイズや他のジャーナルへ投稿をアドバイスさせていただきます。
(6) Liaison & Negotiation
After submission of revised papers, our Native English-Speaking staff maintains cordial and professional communication with journal editors, and proposes the best way for the papers to be accepted. In the event a journal decides not to accept a revised manuscript, we contact editors to ascertain the detailed reasons for the rejection and provide advice to clients on resubmitting to the same journal or selecting another journal to maximize the chances for publication.